We often hear it said that we are light beings and indeed this is true. Within the white light we so often speak of is the full prism of colors in the rainbow. These colors translate into infinite vibrational expressions in different frequency ranges, showing up in our own chakra systems. Human beings have chakras as some of the main components of our energetic anatomy. These chakras- of which I am only referring to them main seven situated along the spine and at the third eye and crown points- are arranged from bottom to top in the rainbow of colors from red at the base up to white at the crown.
These colors inherently vibrate at unique frequencies to each of them, all of these color frequencies expressing different perspectives, temperatures, and modes of energy. Colors, in fact, have long been associated with emotions and energies in our culture and every culture throughout the world. Blue is a color peace and daydreaming while red is a color of passion, anger or pain. Likewise, green is a color of growth and nature, yellow is sometimes associated with optimism and energy, with white being considered a color of purity and divinity.
These color associations are not arbitrary, but subconsciously accurate and instinctual. The colors indeed resonate, as mentioned, in concert with our chakras and each chakra is the manifestation of a distinct and synergistic perspective of reality. For this reason, these tips will be primarily centered around the Chakra system paradigm.
Here are 5 simple ways to use color to heal yourself and fill your life with light. Many of them you may already be doing without consciously realizing it.
1. Eat Healing Colors- I find that pigment rich natural foods help resonate the chakra centers to health and vitality with their bright and juicy colors. For example, beets (hot pink/red), ginger (golden yellow), and carrots (orange), juiced together or made into a salad are delicious, spicy, and sweet. The colors are reviving and can help connect to and stimulate the first three chakras which vibrate in the same colors- red, orange and yellow.
(Image Source: the Food Color Wheel)
We know that very pigment-dense foods are usually the ones containing the most phytonutrients and that bright, fresh, unprocessed foods contain the most life force. Life force energy charges all of our energetic layers, affects our mood and level of energy, and trickles down to the health and vitality of the physical body.
2. Make Colorful Art- It is not required that you are an artist for you to enjoy and benefit from flowing in the creative spirit. If you feel very resistant to the idea of your artistic abilities to the point that it deters you from having fun with color, I recommend getting yourself a coloring book. There are some amazing conscious coloring books out there with everything from indigenous designs to mandalas that do the hard logical part for you and allow you to just flow freely and have fun.
There are psychologists who use art and mandala-making as therapy for trauma victims because it is understood that creativity is very healing, allowing us to release self -judgment and explore our emotions.
Get out some water colors, oil pastels, crayons, or colored pencils and simply begin with the understanding that what you are creating is just for you, you never have to show it to anyone. You may feel drawn to particular colors specifically. I recently noticed that I was having this experience myself. The color combination of pink and orange keeps appearing for me and has been the central color combination in my crystal work and artwork lately and once I finally noticed it I realized that, for me, it was because I have a need to connect my sacral chakra (creativity/sexuality) to my heart center (self-love/unconditional love). This discovery has been very meaningful and healing for me. Maybe you will make a similar discovery.
Check out this video about making mandalas, mandala-making is a great place to start:
3. Adornment- Are there particular colors that make you feel attractive to wear them? Are you known for wearing a certain color, or do you have particular colors that feel powerful to you when worn? Pay attention to this correlation. Not only do certain colors appear more attractive on us than others because of our skin tone and coloring, but also because of the way the light reflection works with our personal energy.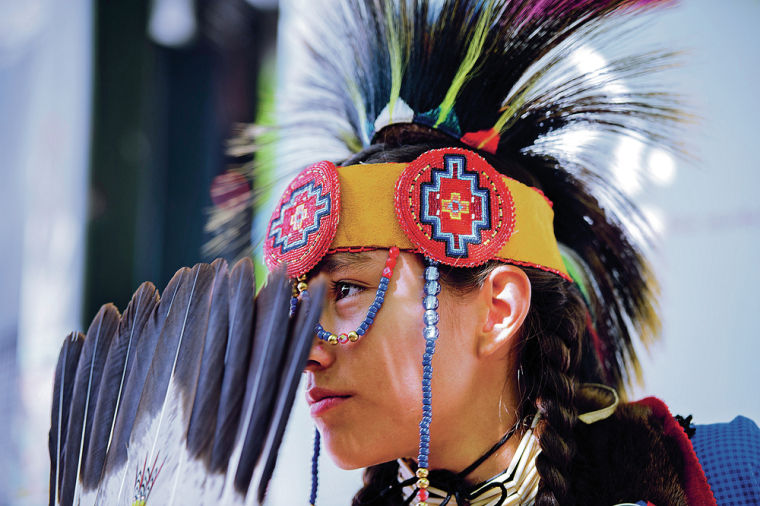 The same holds true for the wearing of crystals and gemstones worn as jewelry. As a rule of thumb the color of the stone will correlate to the chakra which it can best activate or heal. For instance, most red stones are appropriate for the first or root chakra, orange stones do well with the second chakra, and so on.
Trust your intuition when feeling drawn to wearing a certain color or piece of jewelry as it may be a communication that you need more of that color in your energy field.
4. Decoration- The Asian art of Feng-Shui studies the relationship of the flow of energy within a space to the way objects and furniture are placed in that space, and for most of us whether we acknowledge it or not, we are very affected by the energy of our surrounding.
It is important that your surroundings reflect energies that are comforting and feel good to you. Perhaps adding a pop of color into your kitchen or bedroom, or changing a wall color could add a splash of inspiration, fun and energy. If you moved into a house whose walls are Pepto-Bismol pink with stained brown carpet and you avoid that room like the plague, it could be because the colors and energies expressed by the room are not necessarily resonant with your own energy. Change it!
Simple additions and adjustments in color can make a big difference to the way a space looks and feels. Colorful flowers are amazing energy enhancers, and a set of new colored sheets, colored candles, vibrant or soothing colored fabrics, or a new piece of colorful art can do the same.
5. Crystals and Gemstones- As alluded to above, crystals and gemstones are excellent allies to intentionally beam certain color frequencies into the body and the surroundings. While a full exploration about color theory as it relates to crystals would be outside the scope of this article, the simple concept explained above of gemstone color/chakra correlation is easy to refer to and rather accurate.
In general for feelings of spaciness and weakness of the physical body, black stones are usually extremely grounding and detoxifying, while red stones are grounding and revitalizing. For lack of energy, creativity, and sex drive, many orange, yellow, and red stones can activate the sexual and creative energies and stimulate the physical bodies vitality and energy as well as activating the mental body and intellect. For issues of self-worth, relationship troubles, critical attitudes or loneliness many pink and green stones resonate beautifully with the heart chakra centers which govern the expressions of love for self and love for others. When a person is having difficulty speaking his or her truth or expressing their soul gifts, blue stones may be worked with. For a need to align with the intuition, stimulate higher soul creativity, and expand the state of awareness, purple and indigo stones are excellent for the third eye. Clear and white stones are very activating for the crown chakra which enables us to pull life force divine energy into the system and to connect to the oversoul and spirit realm, as well as source itself.
(Image Source: jewelsglobe.com)
Color surrounds us in our lives and the world as a whole. Take a look around and allow yourself to be open to the many ways you exude color, exist within color, and are affected by color. Find creative ways to add color in your life and connect with the full rainbow spectrum for vitality, joy, and creativity. Enjoy
Image Source: Infinite Fien
[mashshare]