We have a desk for our computer, notebooks, art palette, and work equipment. We have the kitchen where we keep our food, pots, pans, and where we create our meals. In the bedroom we organize our clothes, make a place to rest and sleep, and store our personal and intimate items; in the shed we keep our lawn mower and yard tools; and in just the same way as we make a space for the various representative daily functions of our lives, the altar is the physical space we set aside to connect with spirit.
While we know that in truth, all things are spiritual in nature, the altar is the space we create to intentionally focus into the desires and the truths of the soul as it expresses itself through us in our lives and physical spaces. It is where we open and maintain a gateway to the realm of spirit, it is the energetic workshop in which we alchemize our personal energies and intentions, and it is our point of attraction for what we desire to experience in our lives.
An altar is a powerful tool, and indeed a relationship one builds with sacred objects in a sacred space. Across all cultures, religions, and spiritual disciplines, altars are built and used by people from all walks of life. From Buddhism, to Christianity, to Mesoamerican traditions, to Native American customs, and beyond, altars are used in ritual, ceremony, and personal meditation practice. Each culture and person has a unique way of building an altar that represents significant energies, riches, deities, and materials that are important to the individual.
(Image Source: Spell Casting Altar)
Why Build an Altar?
How can an altar be of benefit to you? Should you create an altar for yourself? In my personal practices of alchemy, prayer, crystal work, song, and manifestation, I find that my altar serves as a tool that helps me to always maintain my focus into the important aspects of my passions and spirit. Having a special physical space set aside that is always available for various workings allows me to keep my focus where I prefer it to energetically be; to place long term crystals grids, have space to burn incense and resins, display images of my family, sing and visualize, and more. An altar can be great if you are ready to create a physical representation to symbolize your core essence thereby setting up a strong symbol of that frequency to help keep it anchored and enlivened in you.
If you would like a physical tool to help you manifest your desires, to help you maintain discipline and magnify your meditation practices, if you would like a special and energetically charged space to pray for yourself and others, then it could be time to consider creating yourself an altar.
Steps to Building an Altar
Choose a Space: You will need a space that will remain uninterrupted and that is located somewhere that feels comfortable to you, probably with some degree of privacy if you wish, and where you will be comfortable praying, singing, dancing, or expressing yourself in whatever way is appropriate for you.
Keep in mind that you will be placing sacred objects here so it will need to be a place that can be easily cleaned and that is safe from young children in your home or pets. The top of a dresser, a special shelf or table, or inside a closet might be ideal for you. Perhaps you even have a space outdoors where you would like to place it. Keep in mind that size doesn't matter. While some people keep an altar that is small and simple with a few items set quietly in a nook of the house somewhere, others have elaborate altars that are the subject of an entire room, or even various forms of altars throughout the house in every room. What is important is that it is a space accessible and comfortable to you.
What to Put on Your Altar:
The choice of what will be included in your sacred altar is deeply personal and is to a large degree dictated by what your personal practices are and for what purpose you might be using it. Altars can be very structured or very loose to suite your style and spirit signature. For instance, some indigenous people create altars that are aligned with the four directions and the elements of nature with objects and areas on the altar purposely representing these specific energies. Whether you want your overall sacred space to have a design or if you would prefer to arrange the objects intuitively, is up to you. Here are a few ideas of objects that may help you focus the energies in your altar:
Plants- Living plants, dried medicinal plants, flowers, dried flowers, etc. Plants carry a lot of information, wisdom, and healing energy. Plants that you are working with for any purpose can be a great addition to your altar to help represent their energies and the medicine they carry. Living plants detoxify their environment and bring a great deal of life force. Bamboo is thought to bring good luck, pathos and other indoor lights are great if you are working with a low-lit area, and other plants like cacti or succulents might be more fitting to your vibrations. Either way they bring their own intelligence and consciousness to a space, energizing it.
Smudging Supplies- Smudging is the practice of burning fragrant and sacred plant materials to cleans etheric energy in a space or around a person. Common smudging herbs are Sage, Palo Santo, and Copal Resin. It can also be helpful to have a abalone shell, ceramic dish, or metal tray on which to burn your herbs and collect ashes. Keeping smudging herbs handy makes it easy to maintain fresh energy in your altar space and to shift the energy when you are doing ritual working, praying, or using your altar for any reason. IT can also be a great practice to smudge yourself regularly when you come from outside of your house and before you work with your altar so that you can be sure to always bring fresh energy to the equation. Smudging plants are earth element and work with the air element as they cleanse, and also bring the fire element when burned.
(Image Source: crystalinks.com)
Crystals- crystals and gemstones carry a great deal of light in crystallized solid form. They are highly organized, cohesive, geometric forms of life that improve the synergy and life force wherever they are places. Large clusters of crystals attract and cleanse energy and also send out positive energy vibrations to their surroundings, not to mention they are beautiful. Crystals can magnify energy focused into them and serve as excellent focal points or allies for meditation, manifestation, and healing. They can serve many useful roles on a personal altar and magnify all the energies present as well as carrying the earth as well as other elemental energies.
Artwork- Pieces of art in various mediums can make great additions to your altar. The artwork can be original work of your own or of others, or even prints. These images can depict anything from deities and guides you connect with, beautiful scenes of nature, sacred symbols, portraits of family members or anything else. Having visual representations of energies you like to have present in your life helps focus that energy into your experience. This can also include statues and figurines of the deities and entities with whom you resonate.
(Image Source: novica.com)
Personal Objects of Significance- Objects you may wish to include on your altar can vary widely. Perhaps you will like the include the energy of a family heirloom passed to you, significant jewelry, fabric, or clothing, letters or cards, symbolic gifts, or other such items. For instance, on my altar I keep the first pair of baby shoes my daughter ever received as a gift from some dear friends. I like to keep close the energy these carry.
Objects from Nature- Perhaps you don't have many of the objects listed above or are unsure where to start. Whether you are someone very connected to nature or if you wish to be, finding beautiful objects in nature and building an altar with them can be intensely beautiful and healing. Go for a nature walk and collect beautiful things scattered about that represent the life, beauty, fragrance, patterns, and symmetry of nature. Water from a brook or river, interesting leaves, flower petals, sticks, pinecones, molted feathers, stones, shells, sand or soil, or anything else that catches your eye. Try arranging them just for fun in a way that is intuitive and beautiful. Items like water, sand or shells bring the water element. These also carry life force and devic earth energies to enliven your space and bring beauty indoors.
Water and Food- In many places and cultures it is traditional to always keep fresh water on your altar. This is because water is the element of life. It is also said that water can trap erratic energies in the room- particularly when we sleep. It's nice to have an earthen mug or bowl, or even something crystal that is filled with water and changed regularly. This can be an offering to the spirits or simply a symbolic gesture. You could also charge water with crystals on your altar and drink it every day to bless your body and spirit.
(Image Source: Dia De Los Muertos Altar)
Food is often a traditional item included on altars because food is representative of the life force that sustains us. In Dia De Los Muertos altars, for instance, chocolate and pan dulces are included as offerings to ancestors who are being honored by these special altars. The placement of fruits is also a lovely way to make an offering to a spirit with whom you wish to connect or simply to bring life force energy to your altar.
Writing- writing is a powerful way for many of us to focus and manifest our goals and desires. If you are one of these people, writing a vision of what you wish to manifest or things you are grateful for, or even a story that represents the life you want, and placing it on your altar can be a powerful practice for focusing on what you desire in your life.
Lights, Candles, and Mirrors– Light is a universally recognized concept that is the embodiment of consciousness and knowledge. Keeping your altar lit or having items to light your altar for special occasions or when in use is an excellent idea. Natural beeswax candles light the altar with a soulful glow as well as trapping positive ions in the air and thus keeping the etheric space clean. Himalayan salt lamps function in much the same way and can be left on continuously. The placement of a mirror tray or wall mirror on the altar further reflects and magnifies light and any other elements present.
(Image Source: staticflickr.com)
Instruments- Whether you are a professional musician or simply like to meditate with singing bowls, rattles, or drums, instruments bring a lot of energy and the healing and creative qualities of sound into your space. Having these items handy on your sacred space is perfect for when you want to sing or chant, or even use the sound to clear the energy.
Animal Energies- whether in the form of feathers, fur, teeth, claws, or other objects, animal parts that are in line with your personal ethics can be extremely powerful pieces to include in order to imbue the wisdom and medicine any particular animal or bird may offer. Feathers are wonderful tools to include with your smudging practice as they help to move and disperse the smoke and to cleans the etheric energies. Each specific bird has a unique personality and wisdom that can be attuned to by working with its feathers.
Other Objects- As stated, an altar is deeply person. Oftentimes it is something that is not shared with others and kept in a private place. Other times it may be the center of the home placed in the hearth or an entryway. Either way the objects that can be included are limitless. The idea is that the physical objects are merely touchstones for the energies they carry and represent, helping us align and focus the energies that we prefer to have present in our lives.
Dedicating Your Altar:
When you initially set up your altar, it is a good idea to cleanse and align yourself, the objects, and the space thoroughly prior to setting it. This could mean taking an herb or Epsom salt bath, cleansing your crystals and talismans in full moonlight or with smudging herbs, and thoroughly preparing the space either through the application of high vibrational sounds (such as from your instruments, or recordings), singing, meditation, and smudging with sacred herbs.
Once you have a clean energetic space in which to create, allow the energies of the things you are working with to be your guide as to how you prefer to place them, understanding that an altar can grow and transform over time. While you are performing this ritual in your sacred space, it can add a lot to play music that makes your spirit feel good, to burn incense, or to sing or hum.
Using Your Altar:
The word using could ideally be replaced with 'working with' your altar. The energies here are alive. Connect with them. This is the perfect place to pray, meditate, sing, visualize, create sacred art, lay crystal grids, cry and heal, cleanse yourself, or do any other practice sacred to you. You could also place new jewelry, money, gifts, or other objects on your altar overnight or for a short time when you first acquire them to imbue them with good energies or to cleanse them before placing them elsewhere in the house or using them.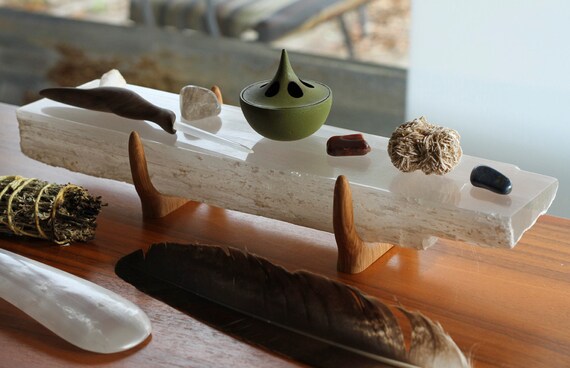 Maintenance:
An altar is not a dead thing. It is more than a collection of objects. An altar is a soul workshop, a dedication of spirit, a small personal temple space where you can enter the sacred space within and focus your energies. It is important to care for your altar as an acknowledgment of its life and the potent energy it carries.
The surfaces and objects will probably need to be physically cleansed or dusted regularly. Picking up the objects to cleanse with a wet cloth and removed dust is also strengthening your relationship to those objects and helping your connection with them to stay relevant.
Sweeping hard floors regularly keeps the area clean and brooms are also traditionally associated as sacred objects that move energy and remove unwanted energy from a space. Perhaps you could have a separate broom or feather duster just for your altar.
(Image Source: crystalbowlswholesale.com)
As well as cleaning your altar space physically, it is vitally important to keep the etheric energies fresh and alive. As mentioned earlier this can be done with smudging herbs, singing, sound, and meditation. It is also important to open the windows and bring in fresh air and sunlight from time to time, wherever possible as these elements are naturally cleansing and restoring.
I personally like to also keep a small spray bottle with essential oil/water mixtures that I spray daily. I like to use a lavender essential oil spray to maintain a peaceful and clean relaxing vibration and to always make the air fresh and fragrant. I also feel that essential oils from plants are activating to the elements found on the altar.
As mentioned above, it is also good to allow your altar to grow and change with time and with you. For one thing, new objects will probably be added or removed from time to time as you heal, grow, and have different life experiences. Also, as the natural fluctuations and cycles of life are occurring- such as the seasons, or times of focus in one direction or another, you may find yourself working with your altar in some particular way more often. The altar, being alive, will sort of rearrange itself.
I personally have found that I change the arrangement of my altar quite often, as I like to feel energy move and shift and it helps me stay connected to my sacreds when I am handling them and listening to how their energy is expressing itself on a regular basis.
Follow Your Intuition
In conclusion, the only important rule here is to follow your intuition. I have seen a wide variety of altars throughout my life from those opulent, complex altars that are permanent physical fixtures, to the simple and transient altars that are a few leaves placed on a rock in the woods for a momentary dedication of spirit. The altar can take many forms, and will take many forms because it is an expression of spirit. Follow what feels right and allow it to flow. Enjoy working with your sacred space in whatever way feels right to you.
Do you have an altar already? Planning to build one? What do you use your altar for? Join the discussion below:
[mashshare]