From oil-inspired wars across Sudan, Israel, Argentina,  Iran, Afghanistan, Kuwait, Iraq, Stalingrad, and more, China's move to ban petroleum and diesel based cars can be an incredible game-changer.
Not only will this upset the shadow government's hegemony over fiat currencies, backed by military might, oil money, and a burgeoning drug trade, but it would help to clean up the planet. Many a dictator has been replaced overseas, when they refuse to support the U.S.'s fiat currency, propped up by oil.
China is likely to join the UK and France in banning petro-based cars based on recent comments made by industry vice-minister Xin Guobin in an article published in Xinhua, China's primary news agency. The UK and France have stated that they will prohibit the production of diesel and petroleum based cars by 2040.
Guobin stated, the country is doing "research on formulating a timetable to stop production and sales of traditional energy vehicles."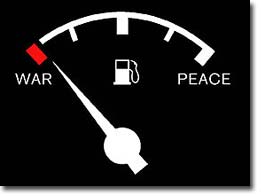 Poor air quality is being cited by all three countries as the reason for halting combustion engine production, but there are farther reaching implications of such a decision.
There are already more than 300 million drivers in China (more than the number of people living in the U.S.), each contributing to poor air quality on their daily commutes. Air pollution in cities like Beijing has become almost unbearable. Air purifiers used even inside buildings which are meant to last half a year become clogged with pollutants within a month. Outdoor air quality is even worse.
China has already surpassed the U.S. in sales of electric cars, but with a government-supported transition, such as tax credits, and the expedited installation of electric charging stations, the country could soon see better air quality, and a reduced reliance on foreign oil.
Elon Musk recently commented that China was, "way ahead of the U.S. on environmental policies, and is very pro-EV [electric vehicle]." Musk elaborated,
"Sometimes people are under the impression that China is either dragging their feet or somehow behind the U.S. in terms of sustainable energy promotion, but they are by far the most aggressive on Earth; it's crazy. In fact, the coalition of Chinese car manufacturers just wrote the Chinese government to beg them to slow down the mandate, because it's too much. They need to make 8 percent electric vehicles in the next year or in two years or something; they can't physically do it."
Musk also wants to build a Gigafactory in China, and has been in talks with Chinese government officials to do so. Anonymous sources have started rumors that a deal has already been signed into action.
The death toll for the Iraq war alone was over 500,000.
Moreover, the world's most powerful banker, Alan Greenspan, admits that the U.S. fought the Iraq war over oil, all while we've been sitting on alternative energy methods, including electric, hydrogen cell, and other forms of propulsion.
This makes China's move to halt reliance on oil-powered cars, a most welcome one.
Article can be reposted with all links intact and credit to EWAO and Christina Sarich.
[mashshare]