We've all experienced feeling absolutely high. We're having a great day. Everything is going right, when all of a sudden someone or something hits us with a big negativity bomb. That feeling of elation soon plummets, and we're trying to figure out how things could have changed course so quickly. In these times, we need to learn how to take our power back. Here's how: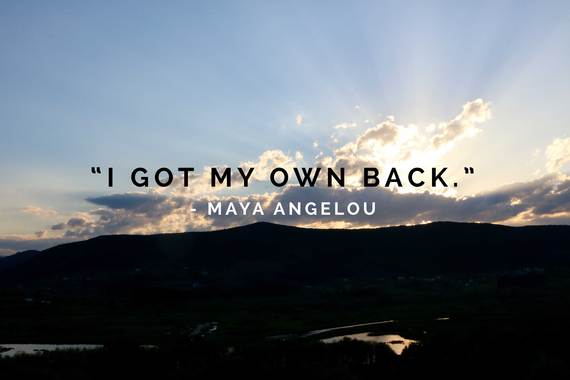 It doesn't matter if you are feeling wacked because your boss was critical about a project you recently turned in, a friend stood you up for lunch, or the blind date you were so excited about just bombed. You can take your power back, easily, and quickly, so that you can get right back to feeling amazing and tackling all the big stuff in life that really matters. Regardless of the external trigger, there are some internal tricks that will keep you stable, and POWERFUL, no matter what is going on around you.
Feel Your Feelings and Release Them. Carolyn Myss, medical intuitive, talks about hanging on to feelings that literally start to cost us our cell tissue. Are old resentments and angers still hanging around that you could have effectively metabolized, and then released? If not, you are giving your power and energy away to someone or something that is robbing you of your current life force. Feel it, bless it, then let it go. No matter what someone has done to you or what you've experienced in any particular time in your life, it isn't worth "financing" with your energy and emotions indefinitely.
What You Resist Persists. If you've had a project, a simple errand, or a closet full of junk that you need to cull through in order to take some things to Goodwill, but you've simply been putting it off, it's time to actually get those things done. These undone things draw a massive amount of brain power, and emotional energy to leave them unfinished. You'll be astounded how much extra energy you have, for example, simply from clearing out a little clutter. Instead or resisting those things, do one small thing a day, until they are done.
Meditate. There's nothing like clearing out the energy like meditation. This practice literally shifts our brain wave state so that we can approach challenges from a completely different perspective, and also allows us to feel more open-hearted, energetic, and calm while we tackle life's never-ending challenges.
Exercise. If you're having trouble feeling what you need to feel, or letting go of stagnant energy, go for a walk. Hike or swim. Go to a yoga class. These activities are not only good for our bodies, but they help to move energy or qi through our bodies and minds. When we sit idle, our thoughts become stagnant, too. While meditation is important, movement is equally as vital to shift back into your power.
Try an 8:16 Breath. Deep breathing clears out cobwebs from our mental space, changes our physiology, and allows us to literally cut the energetic chords from any person or situation that attempts to rob our energy. When we breathe deeply, inhaling for the count of 8, and exhaling for the count of 16, for just five minutes, we can shift out of feeling burnt-out and frustrated into invigorated and happy.
Change Your Perspective. Finally, remember that no one can take our power unless we allow them to. Remember that any person we encounter is giving us an opportunity to draw healthy boundaries, and to lead a healthy interpersonal relationship, not a co-dependent or energetically draining one. Stand your ground. If someone is a downer, walk away, if you have to, but do it with love, becsaue what you send out is what you get back.
 Featured Image: Gianluca Lombardi Photography
[mashshare]